I just can
not
find it in myself to get excited about Valentines Day. I keep seeing all of the super-cute practical life activities on other blogs and just can't find it within myself to want to do anything about it. This most likely stems from the fact that I just can't think of anything I want to say to the boys about it. They are a little young for "romance."
Anyway, when I changed over the practical life activities this weekend I took a deep breath and at least put some things in some heart-shaped containers. We have been cleaning out our basement in useless anticipation of "the big move" and I came across a box of things I brought home from school my last day teaching before I had
Kal
-El. Apparently heart-shaped containers were
the must give
gift of the year when I left my job because I had FOUR.
So here you go...I tried. I even let them use one of my art deco silver soup spoons. Looks like a silver polishing lesson is in order soon.
Spooning exercise
Tonging exercise
Sweeping little silver jingle bells.
(
FIY
, don't try this with little metal snowflakes...they get stuck in the brush)
Discussing the dangers of fire.


My sad little speech Valentines Day went something like this: "I put out hearts for you because Valentine's Day is coming. Valentine's Day is a day when we celebrate how much we love one another. Sometimes we give people we love cards, or hearts, or little gifts to remind them that they love them." Some of this must have sunk in because
Kal
-El made me this necklace today. (See, I also changed the necklace materials out to Valentine's colors.)
I tried one of the pink series exercises with
Kal
-El. This list was for me, not for him. (He'll use it later when he is sounding out words).
I used it to suggest some words we could spell together with the
moveable
alphabet. He was excited....for
one word
. We spelled "ram" together, then he announced "I don't want to do this with you anymore." Oh, the Valentine's spirit. Love is in the air.
It's a good thing we stopped. I realized my list is faulty. "Tag" and "bag" do not use the "a" sound as in "apple" in our neck of the woods. We (at least I) apparently pronounce these with an "a" as in "acorn." I should have remembered, I was teased frequently for this when I lived out of state.
Kal
-El worked with the sand tray (new sand) instead.
Next both boys worked with some basic
sensorial
materials.
Me Too and I talked a lot about emotions and facial expressions while he worked with this little bear.
Afterward, both boys delved into Geography.
Kal
-El wanted to find all of the continents on the map and then on the globe.
This was followed by a side-by-side
scrutinization
.
Kal
-El asked to do another map so I let him try North America.
He had trouble reconstructing Central America so I tried to explain how to use the control map with varying levels of success. In the meantime, Me Too took the map of the continents out himself with sad consequences.
I found him using the map upside-down and sitting on the pieces. He forgot that he needs a second rug on which to park the puzzle pieces why he is working. I really should have him work on maps at a table. He is so little he has no awareness of the pieces on the floor near him sometimes and he has a tendency to crawl onto the puzzle to fit in pieces at the top. Today he sat on North America and put a crack in a portion of Canada.
Kal
-El wore some Antarctica pins we received in the continent swap (I'll blog about the Antarctica box next) while he worked with items in the box.
Today he looked at some photographs of scientists interacting with wildlife. When he recognized an animal he had a miniature of he often matched them up.
Our "Flat Stanley" Antarctica doll took a walk on the continent on the pin map.
Kal
-El asked to examine Antarctica on the sandpaper globe, which is an activity that requires my assistance due to the size of our globe. In this photo he is holding a little Emperor penguin and showing him his homeland.
After completing the map of the continents about five times,
Me Too worked with the dressing frames.


This is my view of the snap frame. For some reason he believes this activity must always be done sitting on my lap.
In case you were wondering, this is what about 2.5 hours of school time looks like around here.
I have linked this post to
Montessori Mondays
over at One Hook Wonder.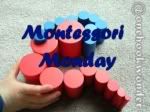 Home of:
The Ultimate Montessori Blog List
The Ultimate Montessori Search Box
The Ultimate Montessori Homemade Materials Collaboration