give the child free access to a high-quality, well-stocked collection of art supplies
show them how to retrieve, care for, and clean up the supplies
let them use the supplies without imposing your ideas of how the material should be used
follow Susan Striker's "10 Cardinal Rules for Teaching Creative Art"
Door open or door closed, our art closet is well-situated in the front entryway of our home.
Yes, we've replaced the closet doors since we moved in but haven't gotten around to replacing the casing or baseboards to match the new trim around the front door. I also plan to eventually add some wainscoting and change the light fixture. Not that you care, but the trim driving me nuts in this photo.
To take this photo, I am standing at the kitchen table where most of our art takes place. However, I am facing the front door and if you were to walk toward our front door and turn right you would walk directly into our school room (only 10 ft from the closet). This means the materials are as easily accessed from the school room as they are from the kitchen. This is why you won't find art shelves in our school room.
We don't have the luxury of an entire room in our home dedicated to art, but I've tried to prepare the environment so that art can happen in the spaces we have. Our
Standing Easel
has been mounted on wheels and can be easily pushed around the house by a child so that they have freedom of location (but no paint on the carpet!). Our laundry room is right off of our kitchen as well so the boys (and I) have easy access to the laundry sink for washing paint brushes and the like.
It's really hard to get a good photo of the closet's interior in its entirety because it's in a hallway and I can't get far enough away from it.
I stood on the stairs to snap this one so you could get your bearings. The rest of the photos are close-ups. The concept of an
atelier
(a well-stocked space provided so that children can create art at will)
is often credited as a Reggio idea
and some go out of their way to say it is not a Montessori idea. I agree that an
atelier
seems to be a standard part of a Reggio classroom. I also agree that often times the impulse to "set up work on trays" in a Montessori environment sadly leads to a lot of assembly-line style crafts rather than "art." However, I have seen many photographs of beautiful art spaces in Montessori classrooms. Also, you would be hard-pressed to convince me that preparing the environment, providing high-quality materials, teaching the children to care for them, and letting them explore them with little interference from adults is borrowing from another philosophy rather than simply an extension of Montessori principles and a place where Montessori and Reggio simply agree.
Some of the most beautiful art spaces I've seen online have used 100% natural materials for both storage and for art supplies...think wooden boxes, seed pods and leaves for collage materials, handmade papers, etc., That just isn't practical for us, so as you will see, plastic abounds.
Confirming my addiction to
self-adhesive business card holders
all of the bins have one stuck to the front. Where possible, I've filled the pocket with the actual contents of the bin. Where it wasn't, I printed a picture. I'll point out what I put in a couple when I give you the run down on the supplies just to throw a few ideas out there.
Young at Art
, she provides a very thorough and thoughtful list of items to stock. When we started accruing art supplies I placed an order through
Discount School Supply
and purchased most of the things on her list. Our collection has grown since that time (three years ago?) as we started crafting as well and began to need things like pipe cleaners, popsicle sticks, and small paper plates. We are well-prepared for any art emergency!
Buckle your seatbelt and I'll take you on a tour of what's in here!
1. Paper.
Blick Construction paper
in two sizes (9x12 and 12x18). This is 80 lb paper so it can take paint and glue well. Unlike the super cheap construction paper it folds and cuts cleanly and markers won't bleed. It is acid-free, lignin-free and light stable. Also
stored here
is economical 12x18
Manila drawing paper
that I buy by the ream so my prolific little artists, who will occasionally use 10 sheets a day apiece, won't drive us to the poorhouse. I have also been happy with
Colorations heavyweight construction paper
from Discount School Supply. I always am well-stocked in manilla, white, and black papers.
2.
Assorted Pack of Premium Felt 9 inches X 12 inches, 50 Sheets
wool felt in assorted colors.
3. Scraps. I didn't use a business card holder on this bin, I just taped ripped scraps of paper to the front. I am trying very hard to train the boys to look in the scrap bin for plain colored paper rather than taking a fresh 12x18 piece each time to cut out a 1" circle. I was accruing quite a collection of otherwise untouched 12x18 pieces of paper with small holes cut in them.
4.
Washable Dry Erase Markers
in assorted colors and a collection of laminated mazes, dot-to-dot pages and the like. The dry erase markers are used most often in the school room.
5. Scissors.
Fiskars plastic scissors
with metal-edged blades are known to be the best.
6. Colored pencils. We used Falk stubby, triangular colored pencils when they were younger. They are easiest to hold. Now that they are older we have switched to
Short Colored Pencils
because they sharpen better.
7. Crayons. My favorites from the beginning have been
Crayon Rocks
and
Stockmar Beeswax Block Crayons
. Both free the child to use any surface of the crayon to color in different ways and the rock crayons are excellent for reinforcing the tripod grip. Now that they are older and often do more detailed work, I bought them this
Crayola 150-count Crayon Tower/Carousel
. We used to use
Triangular Crayons
that I put in a homemade pouch for each of them. However, they don't sharpen well and the pouches would get jumbled so that one kid would cry because the other had "both reds." They carousal sits nicely in the center of the table. There are so many colors they don't fight over who has what. And, it's easier to clean up because you don't to keep track of where the colors go. If you are going for quality over quantity I recommend the
Stockmar Beeswax Stick Crayons
3. Stickers
4. Fancy scrap paper. My mom, an avid scrapbooker, is kind enough to save us her scraps for collage work.
1. Various types of
Jingle Bells
and
Wiggle Eyes
.
2.
Cotton Balls
3. Many types of
Paint Brushes
, glue brushes, and
palettes
.
4.
palettes
,
Curl Ribbon Spool
,
Adhesive Back Jewels
.
5. Stamping materials.
jumbo stamp pads
, geometric
Stamps
,
alphabet stamps
.
6. Assorted .
7.
Play-doh
8-10. Oops! I already did those in the last picture!
1. My stash of
Manila drawing paper
used to refill the paper organizer at the bottom as needed. Also, a couple extra packs of construction paper in the colors that go fast in our house. We always seem to go through 3x more green than any other color.
2. Bin of "odd stuff" I collect for future projects. For example, oatmeal containers for making drums, egg cartons, neat lids, paper plates.
3. 12x18
Blick White Sulphite Drawing Paper - 12 x 18, Pkg of 100 Sheets, 80 lb
by the ream. For a long time we used this all the time and didn't have manilla. If price isn't an option, this could be your everyday paper. It IS our everyday paper for painting and gluing. The manilla is mainly for drawing.
4.
Chalk
in assorted colors. Great to use on black paper. Up HIGH so my kids don't use it, forget to wash hands, and crawl on my furniture.
5. Standard
jumbo crayons
for visitors who are put off by our rock and rectangular crayons, but too young for the "big boy" crayons.
6. My
bulk stash of rock crayons
.
7.
Cake watercolors
.
8.
Washable markers
. Again, up high because art isn't fun if something is damaged and mom screams and yells like a maniac. I like to know when they are using markers.
9.
Glitter glue
, assorted colors.
10.
Aquadoodle
,
Magnadoodle
The one type of art supply that is not stored in this closet are any kind of liquid paint.
I want to know if they are using paint.
The brushes and pallets are reachable to "get them started" but they have to ask for the paint. We have
liquid watercolors
,
finger paints
,
washable tempera
< ,
dot paints
, and acrylics.
This might be a ridiculous amount of materials if the boys attended school outside the home, but they don't. When you outsource your child's education one of the side benefits is that you also outsource many of the accoutrements of that education. We don't outfit ourselves like this for every subject matter, but we do when it is something near and dear to our hearts.
Home of:
The Ultimate Montessori Blog List
The Ultimate Montessori Search Box
The Ultimate Montessori Homemade Materials Collaboration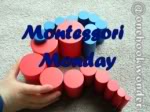 link back