Our
miniatures collection
is an important part of our learning here at
What DID We Do All Day
? What started out as a small phonics objects collection has grown to be part of our learning almost across our "curriculum." We use these little guys in
sound bins
,
object boxes
,
continent boxes
, and
all over the culture shelves in general
. In the near future I see that they will be pressed into service for grammar work, zoology, and who knows what else?
STORAGE:
The miniatures collection is one of those resources I store right in the school room where I can access them at any moment to make changes on the shelves.
You got a little sneak peek at these in
our school room tour
. The miniatures collection is stored in
hardware drawers
on top of our geography shelves. I have another pair on top of our music shelves that hold manipulatives. The little, woven basket on the top is a place for me to stash object quickly when I'm too lazy or rushed to sort them into the correct drawers.
Unlike some Montessori Moms, I don't allow the boys to access to the items in these drawers. They get to use the items as they are used in works on the shelves, but they are not to take anything out of the drawers without asking permission. They are familiar with what is in them, and will frequently ask for something when it is just the "right thing" for what they are up to that day.
When our miniatures were merely a "phonics objects" collection I started out with
the smaller drawers
. We outgrew those rather quickly so they were retired to the manipulatives area and replaced with the larger type.
Together the two cabinets have 36 drawers. Thanks to judicious doubling using
drawer dividers
I have enough room for all forty key sounds and I've giving some prolific letters of the alphabet more than one drawer. So, some letters (like b, c, s, etc.,) have two drawers and there are also drawers for "th," "ou, oo," and the like. I like to be able to change these around at will so I simply wrote the letter names on the front of the drawers with a dray erase marker. They don't show up well in the pictures (they probably show up best in the first picture on the right-hand cabinet), but they are perfectly legible in person.
WHERE DID I GET OUR OBJECTS?
I occasionally get asked where I found all of our miniatures. They have been scrapped together from a variety of places.
The first place I looked was
around my house

.
You are sure to find things like a "toothpick", a birthday "candle," or a "lightbulb" from a nightlight. Our "oa" sound bin has a ziploc bag full of "oats." I cut a zipper off an old baby outfit for the "Z" bin. I grabbed a "feather" out of our art supplies, a "rock" from the driveway, and "velcro" out of the sewing basket.
The
craft store

,

dollar store
,
and
party store
all sell little bags of odd things like miniature clay "pots", wooden "fences", miniature "jars", or "marbles." They will also have collections of things for "party favors" or "wedding decorations." I have a "dove" from the wedding aisle, and a "compass" from the pirate party decor.
A good craft or fabric store will also have 1000's of little collections of themed
buttons
. I found a
ton
of miniatures that way.
An obvious source of miniatures are
Toob collections
. You will get mostly animals this way, but these will do double duty on your "culture" shelves.
At least 1/3 of my objects are
small Christmas ornaments
or parts of
Christmas villages
. I went crazy one year when everything was 90% off after Christmas. And now, there is a big trend to decorate little trees for other holidays (Easter, Valentines Day, Halloween). I scored a bunch of new objects one day after Halloween when I bought a pack of miniature ornaments that included: ghost, witch, wizard, werewolf, haunted house, spider, and web. I even found a pack of "cowboy" ornaments once.
Don't forget about
Montessori services
. I used them to find hard-to-get objects to fill out some of the more difficult letters. I bought a fishing "rod," a "vacuum", and a tennis "racket" among other things.
Another great way to fill out a difficult letter is to
make an object yourself
. For example, I painted this little "vampire" for the "V" sound bin.
You can use sculpy clay to mold and paint objects as well. I've always wanted to do a "volcano." My mom stitched up a little "quilt" for "qu." My grandmother knitted tiny little slippers, mittens, and hats that are in our collection as well.
I have also had a lot of fun at
thrift stores
. One of my favorite miniature thrift finds is this "inch" for our "i" drawer.
Finally, don't forget to look at
your kids' toys
! I routinely hit up the boys' play foods and play farm/zoo among other things. If I had girls their Barbies and dollhouses might be frequent targets.
ADVICE:
1. START by collecting objects that can be used in your phonetic reading work.
Whether you plan to use the
PBG series or Dwyer
, you are only going to be in the pre-reading/I Spy stage for so long. That fantastic "hummingbird" that you found at the craft store will be a lot of fun for playing "I Spy" or doing a sounds sort, but not very useful when your four-year-old is reading and writing his first words. There is a nice list
available here at Montessori for Everyone
of objects that are useful in either reading scheme. I would collect those items FIRST. Afterward, feel free to have a blast filling out the rest of your collection with whatever you can find. On another note, I like to handwrite my labels for language work in real time in front of the child whenever possible to emphasize the communicative nature of reading and writing. However, I like to save them when I'm done so the work can be left out for independent work. It is easy to tuck such little labels right into the hardware drawers along with the objects for storage.
2. Don't forget your double-letter sounds!
You also need to aurally prepare your child for work with the following sounds: ai, ee, ie, oa, ue, ar, er, or, oo, ou, oy, sh, ch, th, au, qu. I sometimes wonder if the reason one child flies through the double sandpaper letters and another gets stuck is because sometimes the doubles get forgotten during the sound games.
3. Don't be afraid to use full-sized objects
to do your work if your collection for a particular sound is a little thin. Here is a picture of the objects Me Too recently used to review the letter "y":
4. It's okay to use a few photographs
to fill things out. There are some photographs tucked in many of our drawers. They aren't as compelling as the objects, but they are often necessary in the land of double-letters to get your point across. It helps A LOT if you can use a photograph that relates to your child personally. For example, when Me Too recently reviewed the letter "u" one of the photos was of himself "underwater" and his very own "uncle" on a bicycle.
5. Don't limit yourself to initial sounds
for the double letters. When you are practicing ending and middle sounds for the single letters you will probably find enough objects among your "initial sounds" collection to get what you need. Double letters are trickier. I pulled a "jeep" out of the boys Hot Wheels last week and a "sheep" out of their farm for extra "ee" practice. I store most of our objects by initial sound. The doubles drawers have objects with the sound in any position.
6. Make reminder slips.
Some of my drawers have a little card in them with "reminders." I might write the words "sheep" and "jeep" on that card in my "ee" drawer so I remember to pull them from their respective drawers ("sh", or "j") if that is where they are stored. Or, conversely, I could have a reminder in my "a" drawer that the "ax" is stored in the "x" drawer. I have the word "eggplant" on my "e" drawer so I remember that we have an "eggplant" upstairs in the toy kitchen. I laminated these little cards and use a dry erase so I can move things around at will without having to make them again.
WHAT OBJECTS ARE IN OUR DRAWERS?
If you are looking for a more specific rundown of what is in each of our drawers, you can get a better idea by looking at our
Sound Bins by clicking on this link
or using the tab at the top of my blog page under the header. That page is a work in progress, but most of the 16 bins featured are among the more difficult sounds to represent. I am adding to that page as I get the time to pull out a drawer and photograph the contents or as the boys use the contents of a particular drawer. If you have a particular sound you are having trouble with and it is not already featured, feel free to make a request by leaving a comment or sending me an e-mail and I'll move that letter to the top of the queue. My sound bins posts will never be a 100% thorough representation of what I have for each drawer because many objects are in use and tucked away in continent boxes or the like. I have enough objects that this is not usually a problem when I am pulling together language work. I do have to have a vague awareness of where things are so that I can pull a "yak" out of the Asia box when I want to.
Home of:
The Ultimate Montessori Blog List
The Ultimate Montessori Search Box
The Ultimate Montessori Homemade Materials Collaboratio
n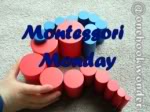 link back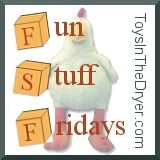 link back